I have been getting lots of emails and comments lately asking for a post on different kinds of DJ software. So today I will let you in on one of my personal secrets – the beat making software that will teach you how to make beats for your DJ mixes!
The reason I have kept it a secret for so long is that I didn't want people to know just how easy it is to make really awesome beats for your music when you have the best beat making software. I figured that if everyone knew about this, they wouldn't be as impressed by my music. But then I decided that I'd rather give out solid tips to my readers than worry about what people think about my own work.
So here you go – one of the best beat making software I know!
For a long time now, I have been using Sonic Producer to make my beats. I had tried a few different programs before, but most of them were not as good as this one, so I stuck with it. If you want to hear an example of what kind of beats I make with Sonic Producer, you could listen to a few samples at their website.
So you can see, the beats sound very professional and high quality. That's exactly why I stuck with this software after trying a bunch of other ones. But there were 2 other main advantages – lots of features and simplicity. It is so damn easy to make awesome sounding beats with this beat making software that I didn't want to put it down when I first started using it. I spent hours making one beat after another. In fact, even if you don't yet know how to make beats, this beat making program will help you learn quickly.
Here's how it works. You get a screen that looks like this: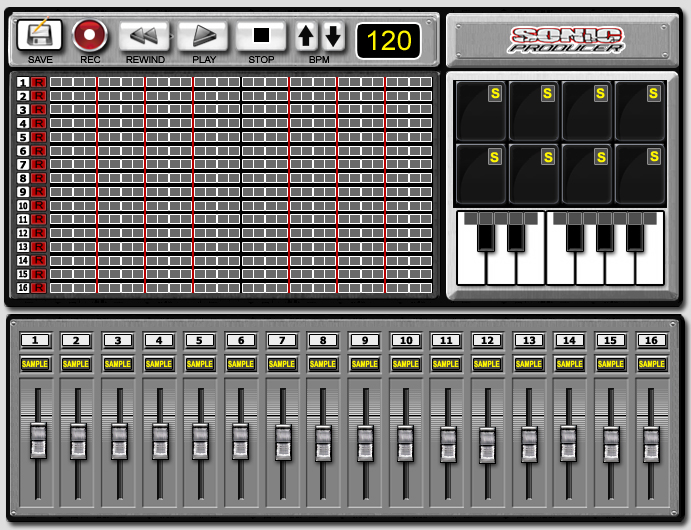 You can either record from an instrument that you have, like a keyboard, or just use the built-in instruments in the software. That's what I do, since I find that easier and quicker. So after you choose what kind of instrument you want to get your sounds from, all you have to do is click on the squares where you want that sound to play. Depending on the BPM you choose, you could think of each 4-square segment as 1 second in real time. So if you want to play a drum once per second, you just click every 4th square in a row. But regardless of your BPM, the cool thing is that with the way this is designed, your sounds will always be properly spaced. So even when you change your BPM, everything is preserved.
This can mimic the sound of having a complete drum set.
Here's what the other parts of the screen are for: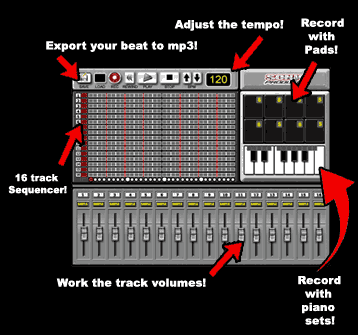 This is what I was talking about when I said there are a lot of features. You have full control of the volumes on every channel, you could export to high-quality MP3 format, change the tempo and do whatever else you want with it.
I don't mean for this to be an advertisement for this software. In fact, I don't think this is the absolute best beat making software. But I do think that it's one of the best for beginners who don't yet have the experience in how to make beats in Ableton, Fruityloops and other more advanced software packages. I have just been getting requests to reveal some of the software that I use and this is one of them. It's up to you if you want to use it, but the point is that it has my recommendation. Another DJ software I have been asked to make a post about is Atomix Virtual DJ, so that will be in one of my future posts pretty soon.
If you want to watch some videos of how to make beats with Sonic Producer, check out their website!
– The Mixing DJ